YMCA + HOYT Mural video in New Castle, PA
We are excited to bring to you the latest from our artistic mural journeys in New Castle,  Pennsylvania for the YMCA and HOYT Arts and Education Center. We created an artwork that would blend with the colors of the surrounding buildings and provide vibrancy and modernism to the area. The total process took us one month to complete. We had a wonderful time interacting with the local community who complimented us on the mural and we were able to catch footage of an entourage of nearby skaters while painting the mural.
At the end of the journey we were given an amazing tour of the Hoyt Arts and Education Center that was once owned by a brother and sister who were the descendants of Lewis Stiles Hoyt. We toured the amazing porcelain art collection and turned the thick pages of a muralists handbook to pattern making. The director took us through a day in the life of the Hoyt Family. We were most amazed by the industrial and mechanical antiques that facilitated processes such as clothes washing and linen ironing. The mixture of woodwork and modern architectural materials such as glass and metal stand in contrast to the traditional green clay roof creating a uniform balance that blends well with its surrounding nature. The center stands as a beacon of New Castle transcending it into the future. You can read more about the center and their amazing community efforts here.
A big thank you to Benjamin Moore Paint, Packard Paint and Hoyt Arts and Education Center for sponsoring us in the process.
Follow all of our latest artworks and murals on Instagram as we travel state to state and country to country!
Till next time!
Ivette Cabrera and Amir Shakir
Mural Address: 
YMCA
20 W Washington St
New Castle, PA 16101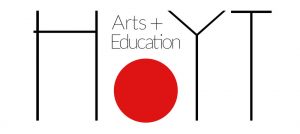 Music by: Amir Shakir
copyright @thecolordreamers