Color Dreamers Mural in Wynwood Art Basel 2018
Well we have once again closed off another amazing Miami Art Week/Art Basel for 2018 and we had some amazing tagged photos of our mural in Wynwood Arts District. Here is one of our favorite photos taken by graffiti and fine art mural enthusiasts that travel the world in search for the best artists and muralists. We are always happy when these photos that are shared with us. You can always look up some of our tagged photos on our Instagram art page TheColorDreamers
In this photo we see how the graffiti meets the fine art quality we present. We not only intend to show how our we perfect our craft by providing the best artwork existing today but how it changes the existing environment for the better. We work with many community organizations and developers to ensure that their city and projects have a fine art quality to them.
We are always happy to assist private clients and developers in choosing the right artwork that fits the aesthetic and goals of each project. Each project is unique and special and we go to great lengths to make sure that the mural truly represents what the client wants. We hope that our artistic vision and murals continue to inspire and , change the dynamic of how we interact with public art.
Thank you for allowing us to continually shine!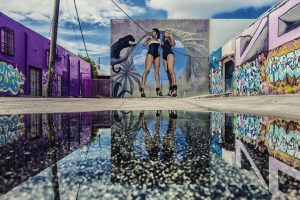 Mural is located
524 NW 26 ST
Miami, FL 33127