The Color Dreamers Mural team unleash 3 new murals at Miami Midtown 5
Unveil of new condominium murals at Miami Midtown 5
Happy New Year to all! Hope you had an amazing celebration with friends and family. We closed our last year with great new projects and new friends. We tend to split our time between our studio work and murals so also had time to create some sculptural works we will be showcasing shortly.

These murals are located at Midtown Five in Midtown Miami. The theme is contemporary luxury meets Wynwood Graffiti. We used a mix of techniques including fine art paint brush, airbrush, spray paint and stencils. We always take into consideration the level of detail and colors in each artwork we create. With these particular murals we ensured that our spray paint colors weren't too bright and blended well with the teal blue glass windows.

The three murals located on the 5th floor pool deck had a posterized street art style mixed with just a small section of graffiti to balance the composition. The mix of styles creates a fun variety for viewers with different taste. The wall next to the yoga studio had a mix of airbrush and neon texture giving it that classic Miami glow.  We created a scenery of one of Miami's oldest graffiti pennant relics, The Marina.



"The theme in these murals was to create something that still appeals to what Miami is made of: sunny weather, high end design, neon lights, arts and culture. It's a vibrant city that continues to grow and we are more than fortunate to take part in its artistic cultural revolution."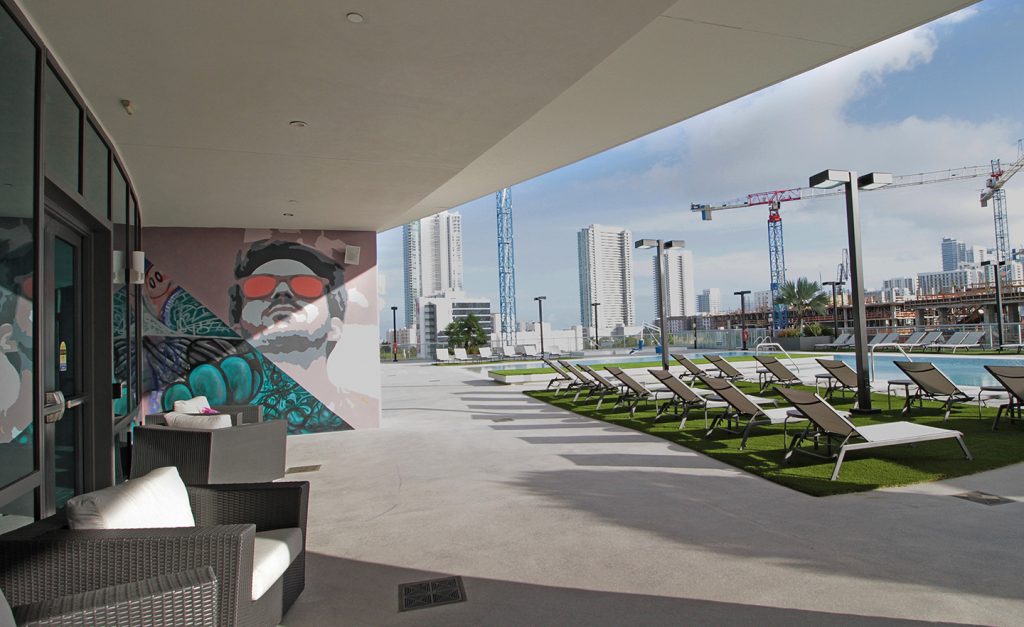 We are working on our video release of the full process soon so stay tuned and please feel free to reach out to us on how to make your dream mural project come true. We love the process of collaborating with designers, architects, developers, community organizations and brands. There is nothing more special to us than to create artwork that really connects and makes a lasting impact.
We give our full attention to each project and client needs. We are constantly working hard to ensure that we have a 100% satisfied client every time. Our design studio is located in Miami near Wynwood.
Address: 125 NE 32nd St, Miami, FL 33137