Graffiti and Modern Mural Mix at private pool deck in Midtown Miami
We have embarked on a new mural at the condominium located in Miami. The concept is a mix of wild style graffiti prominent on many of Wynwood walls and modern luxury retail of Design District. The mural is located on the private pool deck of the condos located in Midtown Miami 5.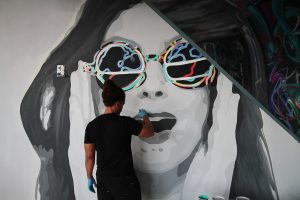 Here's a preview of the mural in process as we continue to add more murals throughout the condominiums 5th floor that includes a yoga studio, gym and beach style pool.
Graffiti is a great way to mix some urban elements while creating a unique piece of artwork that appeals to the younger professionals. In today's Miami condominium market its important to stay competitive and add a unique element that not only reflects the culture and vibe of the city but also adds an artful design appeal that is refined in a luxurious way.