Chinoiserie Murals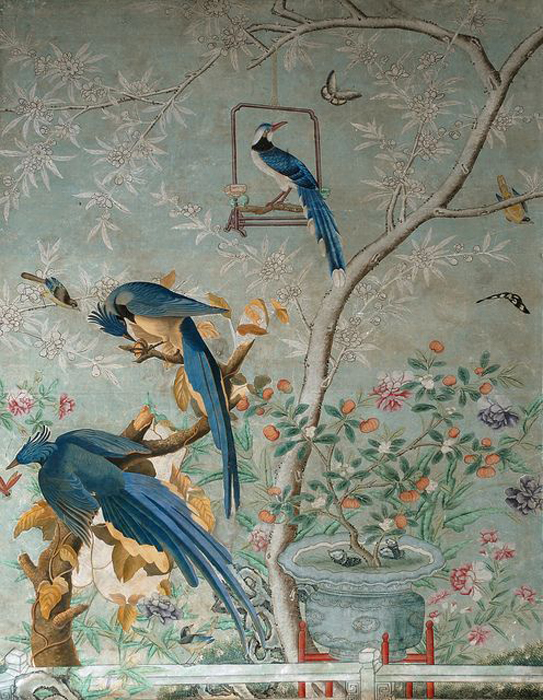 Chinoserie murals are some of the most elegant and traditional style murals that can really enhance the design of a home. Chinoiserie has early roots in East India and Chinese trade dating back as early as the 17th century. Born in the early artistic traditions of Asia, Chinoiserie is derived from the French word
Chinois
meaning Chinese and reflected Asian decorative arts, architecture, literature, theater, music and garden design. The trade between Europe, China and Asia during the 17th century popularized the style and it was often characterized by some Rococco elements within the designs. The sophistication of Chinoiserie became a global phenomenon and many versions were developed in India, Japan, Persia, and Latin America. Design elements include organic forms in nature, birds, trees, asymmetry, and the use of materials such as porcelain, silk, wallpaper, exotic stones, textiles and even some wood-block prints.
Imitations of Chinoiserie can be found in Western art techniques and it was often used to decorate elaborate and elegant royal rooms through the use of wallpapers and furnishings. The attributes that enhance the style can be seen in the delicate use of pastel colors, rich use of gold and enchanting imagery of folly. The tradition of Chinoserie was lost when the first Opium War started and many have sought to revive the style within their interior designs today with a more modern touch. Many companies make wallpapers that reflect the style however. the problem with incorporating Chinoserie wallpaper in today's Interior Design applications is that art should always reflect the elements and architectural features of a space. The art should wrap around the space, play with the light and tailor itself to the specific furnishings within the room. Without the creative applications of a true professional artist, a wallpaper application may seem out of place in a home that has more luxury design to it.
A professional mural artist can enhance the space of a home by making sure that the colors, style and design of a mural fits the style of the home making a truly impressive visual impact. To learn more about different mural techniques and styles
contact us
today! Let a team of professionals create a beautiful work of art that will leave a lasting impression for years to come!
---