Art Auction 50 at Yellowstone Art Museum
Colordreamer Ivette Cabrera's work will be on exhibit at Yellowstone Art Museum's 50th Art Auction. If you are in the Montana area check out an amazing night of entertainment, music and art.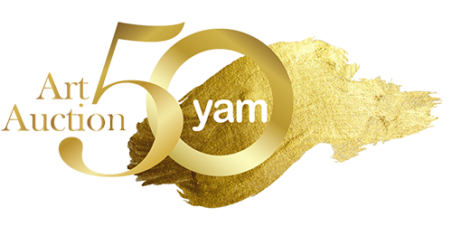 Art Auction 50 exhibition will be on view:
January 25, 2018–March 3, 2018
50th Annual Art Auction Event 
March 3rd, 2018 at 5 p.m.
The Yellowstone Art Museum is proud to host the longest-running and most diverse of the region's art auctions. This event has opened the door between artists and collectors and has made Billings, Montana, an art-rich environment. Take part as we celebrate this milestone at both the exhibition opening on Thursday, January 25, 2018 and the main event on Saturday, March 3, 2018. The event will be held at the Yellowstone Art Museum located at 401 North 27th Street, Billings, Montana. The Annual Art Auction is the YAM's most significant fundraising event, generating proceeds in support of exhibitions and educational programming for the entire year.
Everyone is invited to an opening reception for the Art Auction 50 exhibition, which will be held on January 25, 2018 from 5:30-7:30 p.m. The opening event will be the first chance to view this year's Art Auction artwork selections from 131 artists from across the nation, including 110 Montana artists. There will be live music and hors d'oeuvres and free admission for members. The exhibition will remain open for viewing and silent auction Buy-It-Now and bidding available up to the event on March 3rd (Buy-It-Now ends on Friday, March 2nd, at 8 p.m.).
In honor of the 50th Art Auction,  the YAM is proud to offer a golden opportunity to display and auction an extremely rare print by Pablo Picasso, titled Portrait d'Homme à la Fraise, Variation d'après El Greco, 1962.  This opportunity was made possible through the generosity of Galerie Michael.  Do not miss this once in a lifetime occasion to view and bid on work by Pablo Picasso in Billings, Montana.
The exhibition culminates in our Annual Art Auction, which consists of a silent auction, a live auction, a "Quick Draw," cocktails, and gourmet heavy hors d'oeuvres, all within the beautiful spacious galleries. The Auction begins Saturday, March 3, at 5 p.m. and features a dinner and dessert buffet catered by Thomas Nelson Catering. The Live Auction bidding begins at 7:00 p.m. and will include a raffle drawing for exquisite jewelry donated by Montague's Jewelers.
Advance tickets to the Art Auction event go on sale January 25th online and at the museum.General admission tickets are $95 per person and $105 at the door. Raffle tickets may be purchased separately and the ticket holder need not be present to win.
The 50th Annual Art Auction is generously sponsored by: